Classes & Activities
Class Schedule – Here is the 2017 Portal Irish Music Week schedule.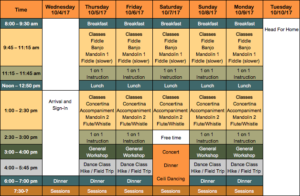 The week begins Wednesday, 10/04/17, with arrivals and sign-ins from 1 p.m. to 6 p.m. We'll also be signing people in Thursday morning, but bear in mind that classes start at 9:45 a.m. on Thursday.
Each day begins with breakfast from 8:00 to 9:30 a.m. You can stay out late at the nightly sessions, sleep in a bit the next morning, and still catch breakfast!
Classes will meet once per day, and instructors will also spend individual, one on one time with you during the week. Based on our own experiences attending music camps, we want to keep the after-lunch periods fairly short and focused to help us all stay awake. We've planned afternoon workshops and learning sessions so you'll have opportunities to learn from other instructors and focus on different aspects of the music.
Course Descriptions can be found underneath each instructor's name on the Staff page.
We've also included free-time from 4:00 to 6:00 p.m. each day so you can practice, participate in the extra activities, go for a hike, or maybe take our new dance class! Dinner is from 6:00 to 7:00 p.m., and sessions will take off from there.
Sessions
There will be multiple sessions scheduled each day, including hosted slow and fast sessions, and we have use of the fire house for anyone who would like to break away and session on their own.
Staff Concert
There will be a staff concert on Saturday evening, October 7, 2017.
Activities
We've arranged some unique and fun activities during the week for the non-musician (or the musician who just needs a break from playing). Portal boasts a remarkable natural environment, rich with things to do and see. These activities have become a very popular part of PIMW!
Some activities include:
Star Gazing
Portal is a dark skies community and enjoys some of the clearest night skies in the Lower 48 States. A professional astronomer will take us on a stunning tour of our night skies.
Wilderness Hikes
For the more actively inclined there will be an unguided hike into the Chiricahua Wilderness. Take the chance to see this spectacular wilderness area just as the aspen and sycamore trees explode into fall colors.
Natural History Presentations
Local experts in all things natural give lively and informative presentations from the natural history of the area to specific flora and fauna. Naked mole rats? Ants? Geology? History?