Home
Portal Irish Music Week 2018. Portal, Arizona.
Oct. 4 thru 8, 2018. Travel days are October 3rd and 9th.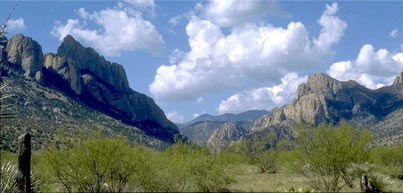 NOT your average music camp, Portal is a unique combination of intensive, quality time with world-class instructors AND a relaxing retreat in one of the most beautiful and ecologically diverse places on Earth.
Classes emphasize immersion in the music with expert mentoring on technique, style, and musical expression. Small class sizes foster a personal rapport with each instructor. Nightly scheduled sessions and plenty of opportunities for impromptu sessions throughout the week mean you can play as much music as your fingers can stand.
Our staff will be on hand to make sure you have a great experience where all you have to do is play to your heart's content!
Portal Irish Music Week 2017 was another great success.  We had a great group of students as usual! Easy access to teachers, private lessons, small group classes and the extracurricular activities made for another magic event.
Check out these testimonials from some of our participants:
Thank you for five wonderful days of music, learning sessions and the opportunity to meet so many friendly and talented musicians. Your planning of this event was AMAZING and SO WELL put together.

The beauty of the Portal location with the hiking, wildlife and weather was perfect.

I was a bit afraid to come out alone and yet you made me feel so welcome and my first experience of a music camp a delightful and unforgettable experience.

– Fina, Fiddle
Thanks so much to you for making this week another incredible experience! There is so much that I loved about it, but here are a few top highlights…

The new schedule was a wonderful idea. Plenty of class time, and then down time to process all that we learned. And the private lesson! No other camp has such a great benefit.

The informal lectures from the staff were exceptional. I managed to attend most of them, and I really appreciated having the opportunity to get to know the outstanding instructors and to learn more about the culture, the music, the theory, etc. All these things add dimension to the music, context to the enjoyment. The informality was key. I don't think a formal presentation would have been as successful.

The evening session playing was such a great opportunity. How often does one ever get to play with such great players? You are surrounded and penetrated by the music. Sometimes I just sat through a tune so that I could hold my fiddle's body and feel it vibrate to the incredible sound resonating in the room. When I played, my fingers and bow did things I didn't know I could do, supported by the strength of the group.

The "slow sessions" were also important to me. It was an opportunity to sit with a smaller group, gain confidence, practice starting tunes, play at a more moderate speed, and offer support to others in return for theirs.

Finally, I really appreciated having the camp in Portal with it's great natural beauty and sense of human community. There was everything that Mitch and Loni did to make the week a success. They really worked hard with such a crowd that was going from early in the morning to late at night. Just covering all the extra hours must have been a challenge, but they were there for us. The whole community came together to support the camp in one way or another, with natural history, biodiversity, bug tours, nature hikes, bird and animal sightings, attending the concert, etc.

I realize that I have run on with this a lot, but there is also so much more that I could say, and in another way, there is not enough that I could say about how great an experience this week was for me. I will be an evangelist for all the coming year so that next year can be shared with even more people!

Thank you again for this amazing opportunity. As far as I'm concerned, you have had another incredible success. I am so grateful for your hard work, thoughtfulness, attention to detail, and especially that it all comes so obviously from your hearts and souls.

– Marilyn, Fiddle
And another one:
This was my first "music camp" but I'm convinced that I got really lucky and fell into a great camp on my first try … and undoubtedly this camp is  the one with the most personable and capable directors and instructors! The warm, relaxed, and informal atmosphere of this camp was just a wonderful experience for me. And to paraphrase Brian's comments Tuesday evening, I can't imagine a greater place in the country to hold such a camp. It is a truly unique setting.

Listening to so much really good Irish music was the real highlight and motivation for me. It was pretty clear from day one that I was by far the least experienced (as well as oldest!) student there and I obviously wasn't as well prepared as the others to take full advantage of the morning classes and the afternoon "learning sessions" and evening "slow sessions", but I did come away with some outstanding one-on-one coaching and some really useful practice tips, and plenty of recorded practice tunes, and several recorded sessions, which I can listen to repeatedly and hopefully I'll eventually learn some of those tunes by ear. Actively participating in the camp music making and absorbing the instruction was harder for me than I expected (thus I got some needed calibration!) but the informal Portal "camp" atmosphere and all the friendly helpful people and all the great music were actually much more than I anticipated. I was a little deflated and depressed after the first "camp" day last Friday when I felt so inadequate, but at the end of 5 days of inspiring, demanding, but fun "camp" activities I was feeling much better and had gotten back much of my optimism!

Thanks again for the way you two personally "set the tone" for the Portal camp.

– Elric, Mandolin
Register starting March 1, 2018 Class sizes are limited, and they fill up fast, so set a calendar reminder!
The PIMW Tee-Shirts are for sale on our CafePress page HERE